Top Tips from our guests.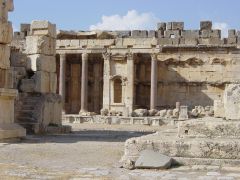 Baalbek
Lebanon is a great (and oft overlooked) choice: really endearing people, few tourists as yet and some fabulous food. The media did a great job of turning Lebanon into a tourist Pariah but unfortunately forgot to resurrect its reputation in latter years. Learn a couple of words of French and Arabic - people warm up very quickly.
I would recommend spending AT LEAST a week, more if possible. Many suggest spending time overnight outside Beirut but i think the only instance that truly warrants this is if (when, rather) you travel to Baalbek (try to stay in the Palmyra Hotel and get a view of the ruins) or if you want to stay in the mountains at Bcharre. The reason i say this is because things are pretty quiet at night everywhere except Beirut - it depends on what you're looking for. Assuming you stay a week then make sure you travel on day trips from Beirut to include the following: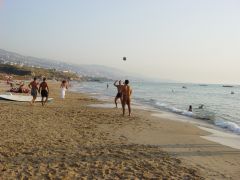 Byblos (Jbail)
Baalbek (1 day and overnight) - the "MUST DO" trip
Bcharre, the Cedars and the Qadisha Valley (1 day, consider overnighting)
Tripoli (1 day)
Sidon and Tyre (1 day, but not a Friday as the souq in Sidon will be closed and it's worth seeing)
Jbail (Byblos) (an afternoon) - visit the harbour
Beirut itself is great; visit the National Museum and walk up the old "Green Line" to the new central district - along the route you'll see the war devastation. Also go to the Pigeon Rocks in Raouche, take a walk along the Corniche in Ain al Mreisse.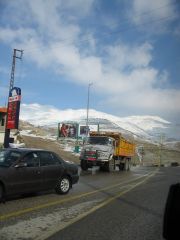 Mountains
Personally i would also go to the former security zone but it depends on your level of comfort with that, and your interests. Hizbollah, when you run into them, are generally very friendly (i'm on an irish passport) and have little to gain by hassling you (they are an elected party in government) - don't wander into fields etc. down here; there are minefields which Hizbollah don't know the whereabouts of - the israelis are retaining the maps as bargaining chips. You can get around the south by hiring a driver for the day in Beirut - your hotel can advise you, or take the bus. Visit Beaufort castle and Jezzine; tourists are still a bit of a novelty. Stop by Marjayoun, a christian town, if you have time.
It's also well worthwhile getting out into the mountains surrounding Beirut - go to Beit Mery and Broumanna for an evening and watch the sunset over Beirut - if there is any in October.
All these trips can be done by bus. Charles Helou station serves the north and trips to Syria, while Cola station serves the south and the Bekaa. Alternately, you can go on an organised tour - again, ask at your hotel. They tend to cost about US-50 per day depending on where you go. I think you'd be crazy to drive - the standard is appallingly low.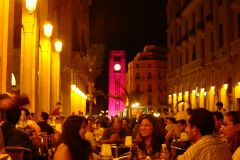 Downtown
Lebanon is not a cheap country and to really enjoy the ample nightlife in Beirut you need to bring a fair float of cash. The cheapest hotels are located near the Charles Helou bus station and the newly renovated downtown area - try the Pension Al-Nazih on the Ave. Charles Helou. There are also cheap places to eat in the Hamra area - stroll down Rue Jeanne D'Arc towards the American University; it's a 3 minute walk. Nightlife is fabulous - go to the Ashrafieh area (Rue Monot) to the bars with the "beautiful people": try Pacifico, Rai, Gotha, Zinc Bar - the Lebanese don't go out till late and they certainly know how to let their hair down. B018 is another pretty crazy club out on the Jounieh highway. Bring a shirt and shoes so you don't feel like a backpacker - in fact you simply won't get in without looking halfway decent.
Of course if you have an israeli stamp you just won't get past the airport. If you have more time then go to Syria - get the bus to Damascus and stay a day or two. As you can tell, i really enjoyed it - hope you do too.
For more details please click on the address below to see more information about places you can visit:

Tyros International Green Pages